At the African Bankers Awards 2020 edition announced today at a virtual Awards ceremony, Mrs. (Dr.) Zainab Ahmed, Minister of Finance, Budget and National Planning, has been awarded the Minister of the Year.
The organisers had noted that despite difficult circumstances, Mrs. Ahmed had managed to push through a set of difficult reforms as well as successfully engaging international partners to help the country navigate an extremely challenging economic environment.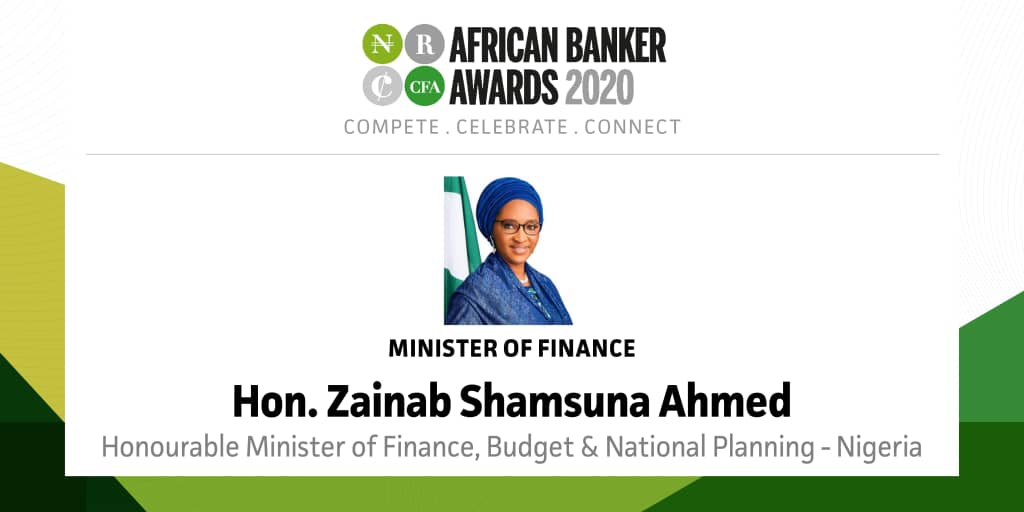 Commenting on this year's awards, Omar Ben Yedder, Publisher of African Banker said: "It has been a momentous year in every sense. Banks will have to play a lead role in kick-starting post-COVID-19 growth and sustaining the real economy. Governments and regulators have done an excellent job with limited means and both our winners Caroline Abel and Zainab Ahmed have demonstrated strong leadership there.
The Awards, taken virtually on the sidelines of the African Development Bank (AfDB) Annual Meetings, are now officially open.
The big winners this year were Nigerian-based group Access Bank and also women in the banking and finance sector. Following on from what was seen as a lack of inclusion last year, the organisers put an emphasis to reward institutions that ensured that women and financial inclusion at the forefront of their agenda.
At the Awards, women really proved influencers and were also the big winners. While the Finance Minister of the Year went to Nigeria's Ahmed, the Central Bank Governor of the Year went to Caroline Abel, from the Seychelles. African Banker Icon was given to Vivien Shobo, who was the CEO of ratings and advisory firm, Agusto & Co up until last December. She was recognised for playing an instrumental role in developing Nigeria's credit markets and also for helping grow a truly world class organisation that is competing against much better resourced international players.
The Awards were pushed back to August to coincide with the African Development Annual Meetings meant to take place this week, with the election of the new President of the bank expected tomorrow. The Awards are considered the Oscars of the African banking community, and given the impartial selection and judging process, are the most respected in the field.
In another development, the Honourable Minister was named in Avance Medias list of 100 Most Influencial African Women.
In the quest of inspiring the next generation of women in Africa who are passionate about leading change and challenging the status quo, Avance Media, through its girls' empowerment project, 'Be A Girl', launches the annual publication to highlight and celebrate the astounding accomplishments of 100 women from Africa dubbed: 100 Most Influential African Women.