Against the fact that Nigeria's gross domestic product (GDP) declined by -6.1 percent (year-on-year) in real terms in the second quarter of 2020, the federal government has said that economic activities in Nigeria are recovering, reflected by a reduced contraction of 3.6 percent in the third quarter of 2020, compared to the previous quarter.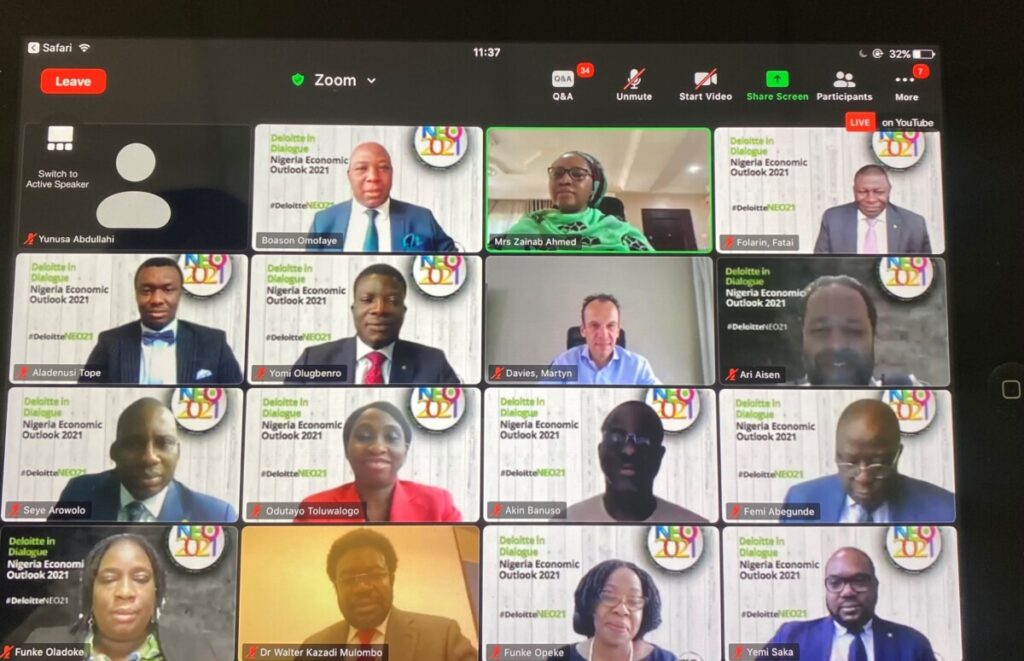 As the impact of COVID-19 pandemic and the national response to contain its spread manifested across several sectors of the economy, Nigeria's GDP had declined by -6.1 percent (year-on-year) in real terms in the second quarter of 2020.

In a presentation of the federal government of Nigeria's Economic Recovery Plans For 2021at the recently held virtual Deloitte Economic Outlook 2021, Mrs. Zainab Ahmed, the Honourable Minister of Finance, Budget and National Planning, disclosed that nevertheless, some activities then in the country showed resilience, recording strong positive growth.

Considering GDP projection for the Nigerian Economy, Ahmed said, "by 2021, the economy will recover from recession. According to the International Monetary Fund (IMF), the Nigerian economy will rebound from the estimated contraction of -3.2 percent in 2020 to growth of 1.5 percent in 2021. From 2023 to 2025, Nigeria's growth is projected to surpass that of the advanced economies.

"The following sectors recorded the biggest gains in GDP growth in Q3 2020: construction – 2.8 percent; broadcasting – 3.5 percent; quarrying and other mineral production 41.8 percent; telecommunications 17.3 percent; cement manufacturing 11.9 percent; financial institutions 6.8 percent; chemicals and pharmaceuticals 6.6 percent; food and beverage manufacturing 5.6 percent; and public administration – 3.6 percent," she said.

The National Bureau of Statistics (NBS) projects a higher growth of 3 percent for Nigeria in 2021. In line with this projection, the consistent and committed focus of the government is, according to Mrs. Ahmed, to accelerate economic recovery from the recession and return to diversified, sustainable and inclusive economic growth.

"The expectation is anchored on the various interventions introduced to cushion the negative consequences of the pandemic… While there is always a lag between intervention and outcome, we can already see benefits on the economy as recorded in the better-than-expected results for Q3 2020. Data for Q4 is expected from the NBS later this month.

On the mostly impacted sectors of the economy, she said that the sectors were the most impacted sectors in Q3 2020, because they involved considerable human-to-human interactions and mobility. Hence, they were significantly impacted by the lockdown measures instituted to contain the spread of the pandemic.

The said sectors were as follows: Transportation – 42.9 percent; oil refining – 68.2 percent; real estate -13.4 percent; accommodation and food services – 22.6 percent; education -20.7 percent; trade – 12.2 percent; crude petroleum and gas -13.9 percent; and insurance -18.7 percent.

"Like many other economies, our fiscal position experienced significant pressure due to sudden, but necessary, expenditures while facing declining revenue streams. Preliminary figures indicate that as at year end 2020, federal government's retained revenue was N3.94 trillion, representing 73 percent of target," the Honourable Minister noted.
Ahmed also noted that the federal government's share of oil revenues was N1.52 trillion (representing 157 percent performance); non-oil tax revenues totaled N1.28 trillion (79 percent of revised target); companies income tax (CIT) and value added tax (VAT) collections were 673.22 billion and N192.66 billion, representing 82 percent and 68 percent respectively of the revised targets for the period; customs collections was N410.21 billion (79 percent of revised target); and other revenues amounted to N993.73 billion.

Considering monetary development, with respect to monetary aggregates, she noted that federal government maintained an accommodative monetary policy stance for the major part of the year, reflecting concerns about the impact of the pandemic. She stated that considerable efforts were also made to ease the effects of the pandemic and the subsequent lockdowns on households and businesses. To complement private sector relief funds, the Central Bank of Nigeria (CBN) provided targeted sectoral intervention.

On targeted credit facility (TCF), according to her, N192.64 billion was disbursed to 426,016 beneficiaries under the COVID-19 TCF; agri-business small and medium enterprises investment scheme (AGSMEIS) had disbursed N10.96 billion to 27,956 beneficiaries; health care support intervention facility disbursed N72.96 billion to 73 projects that comprise 26 pharmaceutical projects and 47 hospitals and health care services project in the country.

Stating further, she highlighted the following: "Creative industry financing initiative's N3.12 billion to 320 beneficiaries, and the Nigerian youth investment facility's N268 million with 395 beneficiaries. The sum of N18.58 billion was provided for the procurement of 347,853 electricity reading meters to distribution companies in support of the National Mass Metering Programme."

Continuing with her 'Setting the Context: The Odyssey to 2021', Mrs. Ahmed said that various fiscal instruments (e.g., Medium-Term Expenditure Frameworks, Annual Budgets, and more recently, the Annual Finance Acts of 2019 and 2020) have anchored successive economic development plans.

Highlighting the President Buhari administration's plan for economic recovery in 2021 based on two major fiscal initiatives: The strategic revenue growth initiative (SRGI) and the 2020 Finance Act which are meant to ensure improved and sustainable revenue generation through appropriate fiscal, monetary and trade policies to result in economic recovery and growth.

"In achieving economic recovery, the SRGI and Finance Act, 2020 will aid the economic recovery process of the Nigerian economy through initiatives and strategies that will grow fiscal revenues, improve the ease of doing business (EoDB), counteract the impact of oil price fluctuations and integrate fiscal, monetary and trade policies.