While it is likely that the best pursuits in life for many have yet to be discovered, every person can however make his or her own job title. Therefore, the best quest in life, for each person, is the one that he or she believes in, and for which he would sacrifice every other thing.
For Alhaji Ahmed Idris, the Accountant-General of the Federation (AGF), it appears he knew he could be a better accountant, a career for which he would sacrifice many other things. He pretty much only needed his hands and mind; this certainly being a lifetime mission for results-oriented administrator in pursuit of excellence for his career satisfaction.
Obviously, it is difficult to come up with an accurate description of the daily life of an accountant, because the field is so broad, with so many variations; no two accountants will spend their days doing the same kind of work. Idris's professional acumen must have been predicated on the fact that "to pursue my dream of becoming that go-to administrator in the investment and public space, I really had to build up my career path…," he says.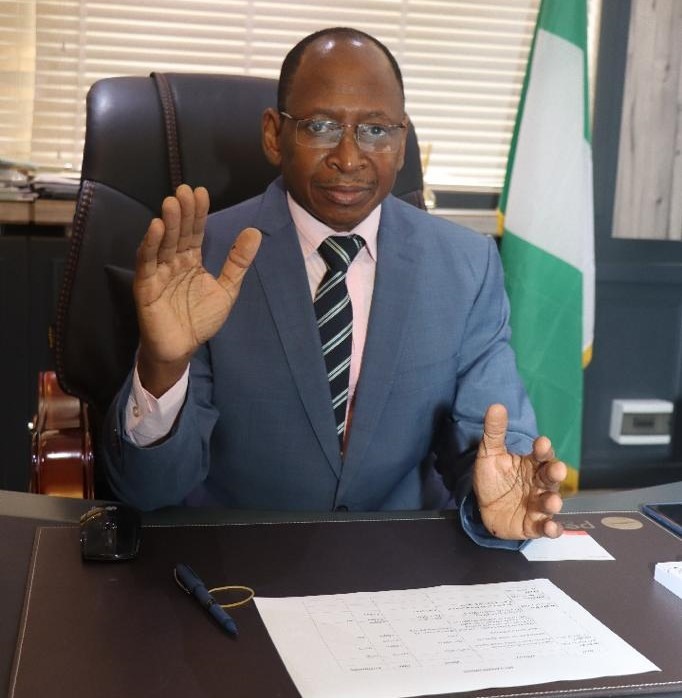 Apparently, every time of the year requires him to work a good number of hours a day on, spending 90 percent of his time on audit and management of government receipts, where his daily tasks also consist of collecting information, performing and preparing financial and audit reports. His job ensures he walks his talks; working with various ministries, departments and agencies (MDAs).
As a government accountant, he could also audit individuals and private businesses, essentially when the need to do so arises (i.e., when it appears that they have failed to comply with any applicable laws, rules or regulations in filing or disclosing their financial information). Idris, a cool-headed fellow, now in his career in government accounting, has responsibilities to indulge: interpret, compare and analyse facts and figures irrespective of the exigencies of the job.
Idris who was born on the 25th November, 1960 in Kano, obtained his primary school leaving certificate in 1975 and West African School Certificate in 1980 from Dandago Primary School, Kano and Kano Community Commercial College respectively. He attended the famous School of Basic Studies, Ahmadu Bello University, Zaria, during the 1980/1981 academic session for his IJMB ('A' Level equivalent) Certificate, and got admitted into the degree programme of the Institution in 1981, from where he graduated with a B. Sc degree in Accountancy in 1984. He later obtained a Masters of Business Administration (MBA) and International Affairs and Diplomacy degrees from the Bayero University, Kano and the Ahmadu Bello University, Zaria in 1989 and 2006 respectively. He had also attended local and foreign courses including Revenue Generation and Accountability for Local Governments, organised by Institute of Chartered Accountants of Nigeria (ICAN); World Bank Disbursement Seminar, Reston, Virginia USA; IPSAS Course, Manchester Business School, United Kingdom, among others.
He has over the years acquired working experience as an Accountant with the organised private sector (OPS) between1985 and 1998, and the federal public service since year 2000 till date. He started work as Audit Officer at Muhtari Dangana and Co, a Chartered Accountants firm in Kano State in 1985. He was also Head, Loan Syndication Unit of Continental Merchants Bank between 1989 and 1994, before moving to TY Chemical Limited (White Oil Refinery) in Kaduna State as Senior Management Accountant.
In the public service, he had worked as Assistant Director, Finance and Accounts, precisely at the Petroleum (Special) Trust Fund (PTF), National Poverty Eradication Programme (NAPEP), and Ministry of Police Affairs, as Deputy Director, Finance and Accounts at the Federal Ministry of Interior and Office of the Accountant General of the Federation (OAGF) before his promotion as Director Accounts in OAGF in 2011, as Director, Finance and Accounts at the Nigeria Security and Civil Defence Corps (NSCDC), and Ministry of Mines and Steel Development, before his appointment as the Accountant-General of the Federation (AGF).
As the AGF, Idris has made history as the first Nigerian in recent times to be appointed for two terms in office. This followed a letter signed by the Secretary to the Government of the Federation (SGF), Mr. Boss Mustapha, conveying the approval of President Muhammadu Buhari for the re-appointment of Mr. Ahmed Idris, for the second and final tenure of four years. According to Mustapha, Idris' re-appointment is "in accordance with Section 171 of the 1999 Constitution of the Federal Republic of Nigeria (as amended), and will take effect from June 25th 2019." Since he was specifically first appointed on June 25th 2015, he has been instrumental to the successful turn-around in the nation's public finance machinery. Unarguably, his re-appointment may not be unconnected to his successful implementation of a number of far-reaching reforms in the public finance management (PFM).
Under his watch, the Nigerian public finance management arena has undergone quite a number of reform initiatives such as the treasury single account (TSA) which has resulted in improved revenue collection for the federal government and garnered national and international acclaim; the integrated personnel payroll information system (IPPIS), with the enrolment of more MDAs which has saved the nation billions of naira as well as cut down on ghost workers syndrome; the international public sector accounting standard (IPSAS) which saw Nigeria transiting from cash basis reporting to accrual basis; the government integrated financial management information system (GIFMIS), a centralised platform for government budgeting and expenditure; and the Assets Tracking Management Project (ATMP).
The on-going transformation of the Federal Treasury Academy as a world-class training institution, and a host of other achievements such as total renovation of the treasury house complex and the facilities within the complex; construction and commissioning of a fire sub-station at the treasury house; renovation and provision of healthcare equipment at the treasury house staff clinic; provision of modern information and communication technology (ICT) equipment and software in the audit monitoring department of the Office of the Accountant-General of the Federation (OAGF) to enhance internal auditing process and audit monitoring; coordinated the collection and disbursement of the COVID-19 eradication support donations; timely disbursement, remittance and reconciliation of monthly federation account revenue, consolidated revenue fund account, and other statutory and special accounts; and development of a national chart of accountants and general-purpose financial reporting (GPFR) for use in MDAs.
The milestone of his achievement also comprises securing approval for deployment of revenue directors to 10 federal government-owned enterprises (GOEs) to ensure increased revenue remittance; modernisation and efficient management of the Treasury Academy, Orozo, Abuja; and construction of federal pay offices in many states in the country.
He is a member of professional bodies such as Fellow Chartered Institute of Taxation of Nigeria, Certified Institute of Cost Management of Nigeria and Association of Certified Fraud Examiners, member, Central Bank of Nigeria (CBN) Board of Directors, member, Presidential Technical Committee on National Minimum Wage, Pro-tem Council Member of Chartered Institute of Forensic And Investigative Auditors of Nigeria (CIFIAN), member, Committee on Utilisation of Treasury Single Account (TSA) for receipts of all revenues of Federal Government, member, Inter-Agency Committee on the Recovery of Portfolio loans of the Asset Management Corporation of Nigeria (AMCON). The AGF is also a member, Board of the Royal Swaziland Sugar Corporation (RSSC); member, International Public Sector Accounting Standards Board, Consultative Advisory Group (IPSASB CAG), and a host of others.
Idris also enjoys membership of many professional bodies among which are Fellow, Association of National Accountants of Nigeria (ANAN), Associate Member, Chartered Institute of Taxation of Nigeria, Associate Member, Certified Institute of Cost Management of Nigeria, Fellow, Financial Analyst of Nigeria, and member, Association of Certified Fraud Examiners. He is married and has children.
Being very impatient with infractions, he had earlier drawn attention to the issue concerning two suspects who had allegedly been posing as directors of the IPPIS in the office to dupe unsuspecting members of the public. Idris expresses worry over the activities of fraudsters, warning that Nigerians should be wary of their escapades and antics. He seriously hates perfunctory sense of financial management. Making reference to the benefits and achievement of IPPIS, an ICT-driven project initiated by the government to improve payment of salaries and wages to FG workers while ensuring appropriate remittances of tax, dues and other payments, he said last year that the government saved N163 billion in two years, adding that the country is poised to rake in another N80 billion in the subsequent year. "In 2017, we made a saving of over N60 billion, just as in 2018, we made about N103 billion; and in 2019 to date and from projection, we should save about N80 billion from personnel cost. This is because MDAs are now on the platform. And these were the monies that ordinarily would have been frittered away.
On the rate of tax applied by tertiary institutions, Idris says prior to the migration to IPPIS, the rate of tax applied by tertiary institutions was not correct, leading to underpayment of pay as you earn (PAYE) tax. He had revealed that the federal government has since paid several billions on behalf of certain institutions to the state governments. Also, he believes the deduction of 2.5 percent of basic salary for the National Housing Fund (NHF) is another statutory contribution backed by the Act of the National Assembly, "from which the lecturers cannot be exempted."
The Fund, according to him, is a saving contribution by all federal employees to enable them have access to short life loans to own their personal houses. Noting that "the savings contributions are refundable with interest either at retirement or exit from service as an employee of the federal government. In all that he is doing, he has been striving to live a life sternly focusing on the pursuit of his career satisfaction based on notable results.