In order to achieve positive results for the wider Nigerian economy, Honourable Minister of Finance, Budget and National Planning, Mrs. Zainab Ahmed, says that Nigerian exporters must be proactive and strategic in taking steps to improve the ability of Nigerian companies to compete with other producers on the continent.
She said this recently in her remarks at the roundtable dialogue on the impact of the African Continental Free Trade Area (AfCFTA) on Micro, Small, and Medium-Scale Enterprises (MSMEs) in Nigeria organised by the Nigeria Employer's Consultative Association (NECA) in Abuja.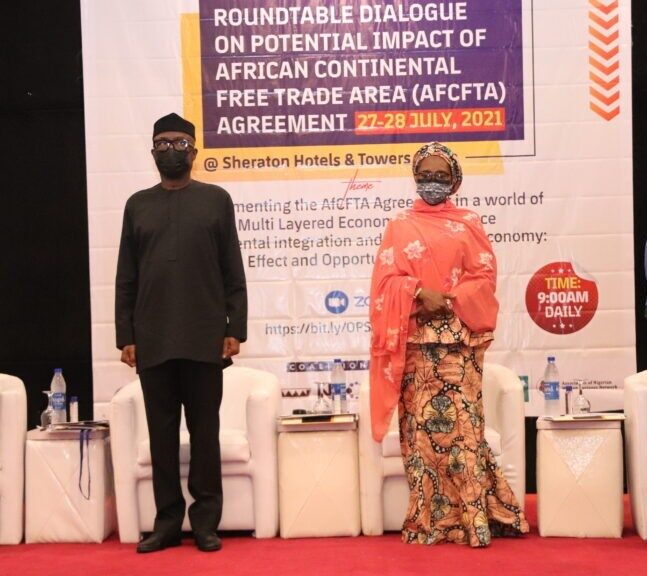 According to her, Nigeria's ratification of AfCFTA provides a unique opportunity for Nigerian exporters to enhance their productive and export capabilities as they enter into a larger continental market for their goods and services.
"It also places healthy competitive pressure on Nigerian producers serving the domestic economy as they are challenged to upgrade their operations and improve their product offerings to compete with other producers on the continent who gain access to Nigerian markets," she said.
As widely documented in the literature on international trade, Mrs. Ahmed noted: "There are always winners and losers from trade, thus the potential, the positive outcomes for exporters and producers in Nigeria which I have just outlined are not guaranteed.
This roundtable dialogue is appropriately focused on the impact of Nigeria's accession to the AfCFTA on MSMEs, according to her.
"MSMEs today in Nigeria account for 96 percent of all businesses in Nigeria according to the 2017 Survey of MSMEs in Nigeria, conducted by the National Bureau of Statistics (NBS) in collaboration with the Small and Medium Enterprises Development Agency of Nigeria (SMEDAN).
The same study, according to her, finds that MSMEs contributed 49.8 percent to total nominal gross domestic product (GDP) in the same year, in contrast with a contribution of only 7.6 percent to total exports.
In her words: "The relatively low contribution of MSMEs to exports is concerning given their significant contribution to nominal GDP and for this reason, urgent steps are being taken to alleviate the binding constraints limiting MSME participation in cross-border trade.
The National Action Committee (NAC) for implementation of the AfCFTA, which was inaugurated by President Muhammadu Buhari in December 2019 to engage with stakeholders and prepare them for the operationalisation of the AfCFTA, is actively engaged in increasing the capacity of MSMEs, she says.
Two pilot initiatives, MSME Aggregation Program and Digital e-Commerce Initiatives, "were identified in the course of stakeholder engagements as critical to scaling up the output of MSMEs to meet export demands and create access to markets".
The Honourable Minister believes that the implementation of these and other initiatives by the NAC will place MSMEs in a stronger position to secure Nigeria's place as a trading and production hub on the continent.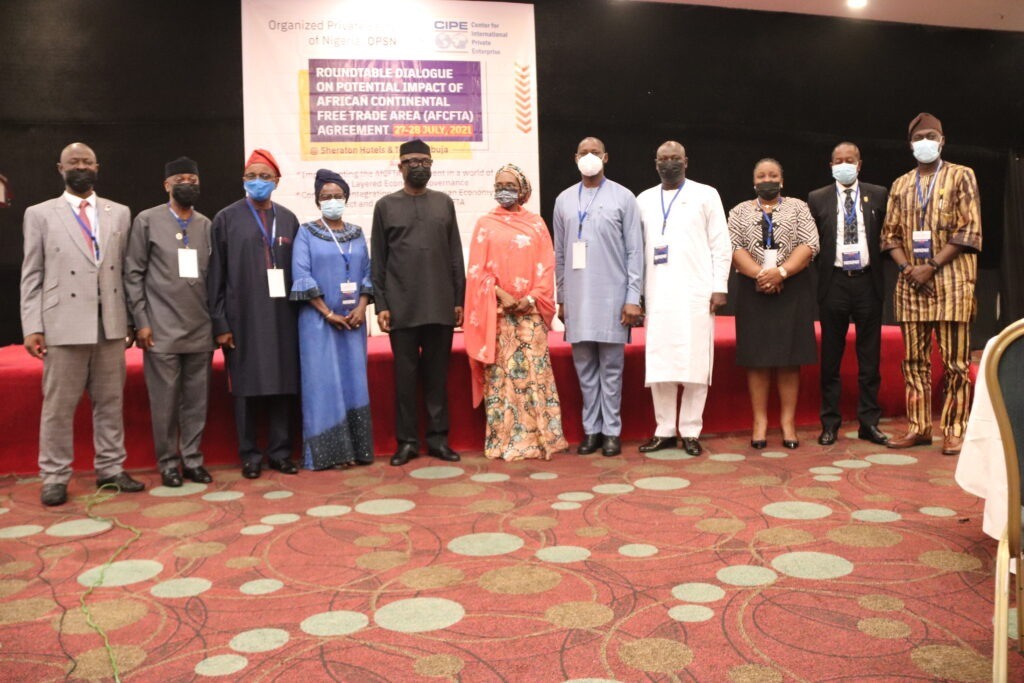 "As we are all aware, the ongoing COVID-19 pandemic negatively impacted MSMEs and for this reason several interventions were introduced in the Economic Sustainability Plan (ESP) to support MSMEs.
The interventions, according to her, include the reduction of The National Agency for Food and Drug Administration and Control (NAFDAC) product registration and administrative charges for license renewal, creation of a survival fund to give payroll support to struggling businesses and the creation of a N100 billion credit facility by Central Bank of Nigeria (CBN) to enhance access to finance.
The interventions to support MSMEs in the ESP are complemented by strong fiscal policy actions delivered via amendments to key provisions in extant tax laws through the 2019 and 2020 Finance Acts.
"These amendments grant tax relief to MSMEs with the aim of reducing their tax obligations which drive down operating costs. This ultimately improves the competitiveness of MSMEs by freeing up additional resources for investment in their businesses.
Some of the key amendments to existing tax laws in the 2019 and 2020 Finance Acts include: Section 23(1) of the Companies Income Tax Act (CITA) which grants a tax exemption to the profits of small businesses and any company which uses its export proceeds to purchase raw materials, plant equipment and spare parts; Section 40 of CITA amended to grant a tax exemption to small businesses and lowers the tax rate on the taxable profits of medium-sized businesses to 20 percent.
A new provision in Section 77, Sub-section 5A of CITA grants a bonus of two percent on taxes paid as a credit against future taxes to medium-sized companies that pay their taxes 90 days before their due date.
Section 1, Sub-section 7 of the Industrial Development (Income Tax Relief) Act (IDITRA) was amended to grant an initial tax-free period of four years to small or medium-sized companies engaged in primary agricultural production; and Section 1 of the Tertiary Education Trust Fund Act exempts small companies from the payment of an annual tertiary education tax of two percent of assessable profits.
"As work progresses on the preparation of the Finance Act 2021 to support the 2022 fiscal year, policy actions to support MSMEs will continue to be prioritised.
"At this juncture, I would like to restate the commitment of the Federal Ministry of Finance, Budget, and National Planning and all its agencies to the facilitation of MSME participation in the AfCFTA through the ongoing domestication of trade protocols as well as the continued use of appropriate and targeted fiscal policy tools at our disposal.
Mrs. Ahmed expressed her expectation that the discussions emanating from the roundtable would result in the identification of areas of success as well as areas which require further action, through fiscal policy, to support the strategic participation of MSMEs in the AfCFTA.